Smoking Oven
Brand : Osaint
Product origin : Jinan China
Delivery time : 30 Days
Supply capacity : 80 Set
Smoking Oven with advanced technology, sophisticated processing and detection equipment, reliable product quality!
Smoking Oven
Technical Specifications:

Type

OSSO-250

OSSO-500

OSSO-750

OSSO-1000

Capacity(kg/time)

250

500

750

1000

Power(kw)

4.5

8.5

12.5

16.5

Power supply

380V/50Hz(adjustable)

Steam cost(kg/h)

75

150

225

300

High steam pressure(Mpa)

0.5-0.8

Low steam pressure(Mpa)

0.05-0.1

Cooking Temp(℃)

<100

Max.Temp(℃)

≦100

Compressed air(Mpa)

0.4-0.6

Skip Dimension(mm)

1030×1020×1950

Trolley(set)

1

2

3

4

Weight(kg)

≈1700

≈2500

≈3200

≈3900

Dimension(mm)

2580×1500×3350

2580×2680×3350

2580×3780×3350

2580×4880×3350
Smoke house for processing chicken,duck,sausage,ham,bacon,fish,beef and various meat products and bean products.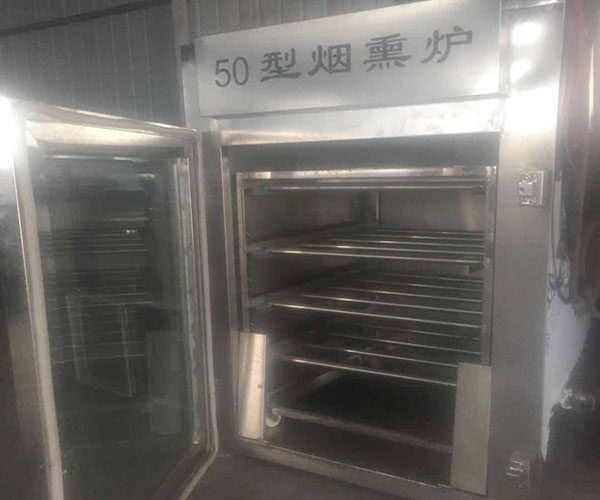 Smoking Oven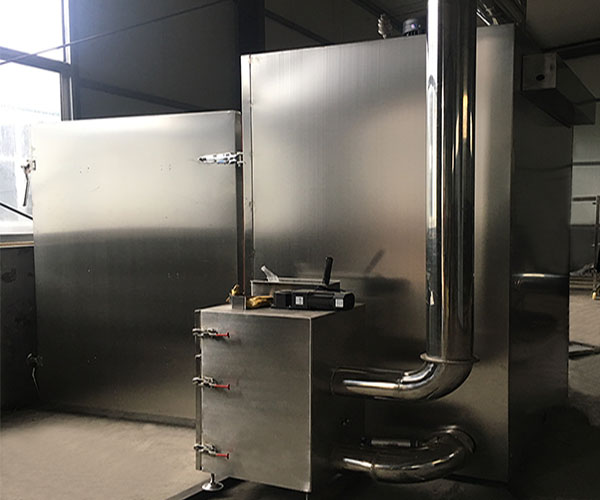 Smoking Oven

Main function:
Smoke house is with functions of drying,cooking,roasting,smoking and cleaning.
Adopt full computer control, and full automatic control system, user can choose the process parameters and process program through the touch screen interface;
Structure:
Steam heating system(electric system), Smoke system,Control system.
Control system:PLC and Large screen human interface.
Smoke system: external woodchip smoke generator.
Heating system:external steam heating and electric heating.
Main components:
1.Touch screen: WEINVIEW
2.PLC:OMRON
3.Thermometer mode : OMRON
4.Electrical element: Chint Electrics
5.pneumatic control components: fuchi
6.Motor: WANNAN
7.steam control Angle seat valve: HIGH-FLYER
8.Insulation layer: Polyurethane foam
9.Hanging truck: welded through stainless steel square tube
10. Sealing plate of the machine:Inside and outside all welded structure, the high quality stainless steel plate, special reinforcement, avoiding board face due to thermal deformation.
Characteristics:
1. The whole machine is made of SUS 304 stainless steel.
2. Adopts PLC and Large screen human interface control system, can store 100 sets technological formula;
3. Can visually display equipment operating status, can adjust time, temperature, humidity, ventilation and other state parameter;
4. PLC and Large screen human interface control system and electromagnetic value are famous brands;
5. Inner and outer surface of the house is made of stainless steel,the whole machine with all welded structure, good leakproofness;
6. Insulation layer adopts polyurethane foam,high temperature resistance, good heat preservation effect;
7. Automatic cleaning system, the program can be set in the control system;
8. Model of heating,steam heating or electric heating.
OsaintGroup has all kinds of smoke machines, Including sausage smoke machine、fish smoking oven and so on.good service and excellent cost performance. Welcome domestic and overseas customers to visit and order!